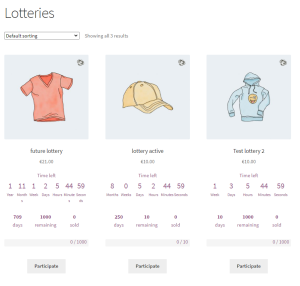 We got quite a few inquries to display countdown timer and progress bar not only on single lottery page but in product archive / loop. This is covered in our documentation,
FAQ item no 12
but we also made handy little plugin which enables those two code snippets with just few clicks and no need to edit functions.php file. You can download it
here
. End result is shown on screenshot below. Plugin can be your ...
Resources and ticket limits - are there any limitations for WooCommerce Lottery? We cover this topic in our tutorial about plugin limits. WooCommerce Lottery plugin is basically limited with hosting solution that your WordPress installation runs on. There is no limit how many tickets can be sold at once or how many numbers can you list for lottery but usually on lower spec hosting (especially on cheaper shared hosting) you will hit limit around couple ...